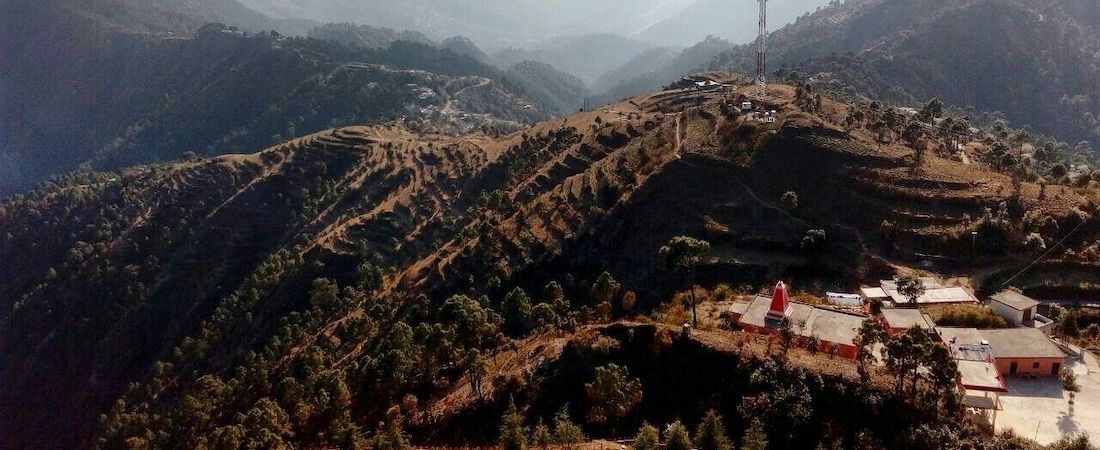 Bhairav Garhi – Uttarakhand
You can never have enough of Uttarakhand – the Dev Bhoomi (Land of Gods). You may have trekked to places and pride yourselves in conquering peaks. But, just as you conquer one peak, you discover there's another!
This time, we have Bhairav Garhi trek for you. Located on the beautiful hills of Raajkheel village, some 17 km from the pristine Lansdowne.
History
For most Hindus, the name Bhairav Garhi at once tells you that it is related to Kaal Bhairav. Well, for those who do not know, Kaal Bhairav is worshipped in the Hindu religion. He is the 14th incarnation of Lord Shiva.
In Bhairav Garhi, Kaal Nath Bhairav is worshipped.
As per historical reports, out of the 52 garhs of Garhwal, Bhairav Garh is one. Its original name was Langoor Garh, which was an authoritative fort till 1791. It is said that the Gorkha army planned for two years to capture the fort. However, they were terribly defeated in just 28 days of battle and went back.
One Gorkha named Thapa realized the importance of Bhairav. He donated a Tamra-Patra weighing 40 kilos here.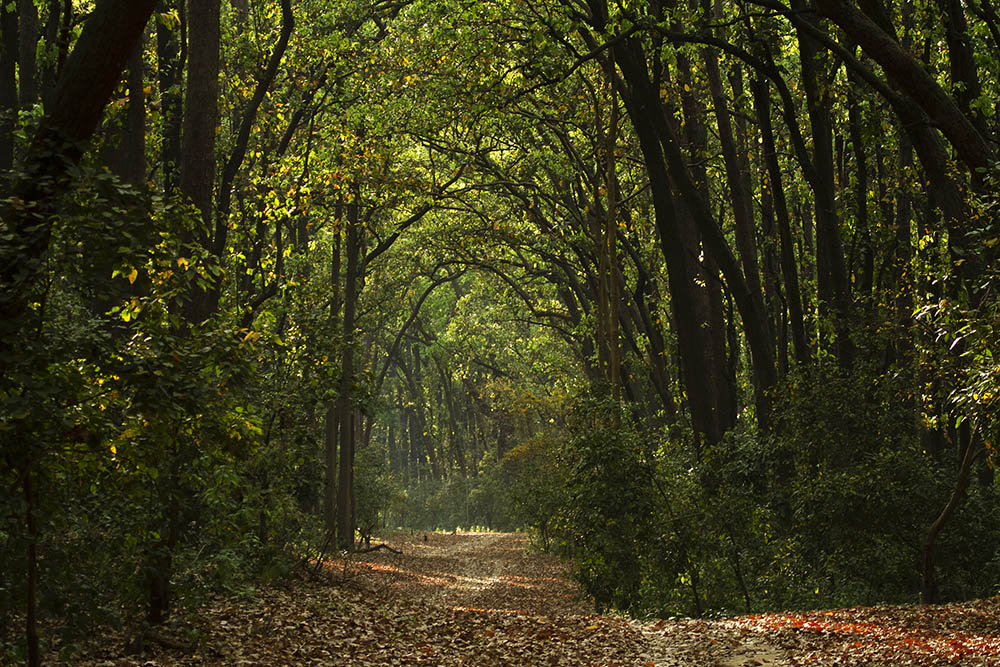 What's Special
People here believe that Kaal Nath Bhairav loves everything black. That's why the prasad distributed here is of Mandua ka atta, which means "Sanjeevani Ragi flour." It is black in color.
Bhairav (also called Bhairon) is believed to be "The Gate-Man of Garhwal" or "The Protector." People strongly believe that he safeguards the area.
Things To Do
Trek to Bhairav Garhi:
Bhairav Garhi and Langoor Garhi/Hanuman Garhi are two different treks. Many times, people get confused.
Hanuman Garhi is located 2 km away from Bhairav Garhi. The locals organize a one-month festival here from July 15 to August 15. So, if you come here at this time, you will get a chance to participate in the fascinating festival.
The 2.5-km trek to Bhairav Garhi begins at Kirtikhal. To reach Kirtikhal, you must come to Gumkhal, located at Gumkhal-Rishikesh road. Kirtikhal is 4 km from here.
There are no eateries at the starting point. So, make sure you have enough food and water with you.
The trek is easy for a fit person.
As you walk for 250 meters, you come across Vaishno Devi temple. Do the "darshan" and proceed. From here, you must walk on a muddy path.
You will find houses on both sides of your trail. As you walk further, slowly, the houses disappear and you are left alone with Mother Nature. You reach a bugyal, which is so beautiful you would be left admiring it for endless minutes! It is covered with long grass and pretty white flowers.
As you continue to walk, you come across Kali Mata Temple and Hanuman Temple. There is a prasad shop here. Do the "darshan." Now you are just 200 meters from your destination – Bhairav Garhi.
From here, you will find a stoned path and shade. This is the place where you can glimpse at the peak of the grand Himalayas.
As you walk across the same narrow stoned path, basking in the glorious beauty of nature, listening to its sounds, you reach the entrance of Bhairav Garhi. You may even come across quotes written in Hindi on the walled path.
One of the intriguing quotes you might see scribbled on the wall is:
"Tan Jitna Ghoomta Rahe, Utna hi Swastha Rehta Hai, Mann Jitna Sthir Rahe, Utna hi Swastha Rehta Hai."
It means: "The more you move the body, the more it stays healthy. The more you keep your mind stable, the more it stays healthy."
As you enter the premises of the peak, you are greeted with a wider area and a few steps and there stands the Bhairav temple. You are at the peak of Bhairav Garhi, at a height of 2750 meters from the sea level.
On the left of the temple is Shakti Kund.
Do the "darshan" here. Stay for some time to absorb the powerful vibes of this place. Peaks of the Himalayas are clearly visible from here.
Inside the temple:
As you enter the temple, you see a shiv linga and an idol of Lord Bhairav in a sanctum sanctorum. Outside the sanctum sanctorum is the idol of Kali Mata at the right and Nandi at the left. There is a big hall where devotees, especially women of nearby villages, come on Mondays, during Saavan month, and other special days to do "kirtan" (sing songs of God).
Trek to Hanuman Garhi/Langoor Garhi:
There is no point of missing a visit a Hanuman Garhi when you have come so far, right? And it's an easy trek.
You simply need to descend about half a kilometer where you will come across a small bugyal. From here, walk right on an unpaved path. It will lead you down.
After walking for some time, you will again come across a trail that leads you upwards. Now, you are going towards the second peak, which is Langoor Garhi or Hanuman Garhi.
This trek is a contrast from the previous one. Instead of forests and villages, this trail features only yellowing grass, shrubs, and no human in sight. In fact, in some spots, you may find it difficult to see a path.
After walking a distance, you come across a huge rock. From here, you need to be careful, as the path becomes dangerously narrow – only 2 feet wide!
You are about to reach Langoor Garhi. Ruins of Langoor Garh fort greet you here. The temple is inside the ruined fort. You can easily see the peak of Bhairav Garhi from here, besides other majestic peaks and valleys.
Once you do the "darshan," you have two otions:
Return from the same path that you came (i.e., going back to Bhairav Garhi and then descending) and reach Kirtikhal.
Go back to Bhairav Garhi and descend about 20 meters from where you take a right turn to a crooked path. This one is a bit confusing. Do it only if you feel highly adventurous. What if you get lost? But don't worry, you won't have to spend the whole life here (and become a saint)! You can return to Bhairav Garhi and obediently take the same path from where you came!
Accommodation
Accommodation is available in plenty in Lansdowne. You can also camp at the peak.
Essentials To Carry
Good trekking shoes
Usual travel essentials
Warm clothes during winter
Litter bag
Enough water and food, as there are no eateries on the trail
Camera
How to Reach:
Bhairav Garhi base is around 18 km from Lansdowne. So, you can either come to Lansdowne and then go to Gumkhal, which is 12.5 km from here.
Or you can directly travel to Gumkhal, which is located on Kotdwar-Pauri road. From Delhi, Gumkhal is 235 km and takes 6-7 hours via road.
You can also board a train from Delhi to Kotdwar. Gumkhal is 36 km from Kotdwar. Kirtikhal is 4 km from Gumkhal and lies on Gumkhal-Rishikesh road.
Best Time to Visit:
Summer, spring, and autumn are best to visit Bhairav Garhi. Come in July and August and you get to see the festival. Avoid winter, as it is too cold and you may also not be able to see the path due to mist or fog. Summers and spring give you a chance to bask in the beauty of lush green nature.
Why not give yourselves a spiritual twist with a visit to Dev Bhoomi?