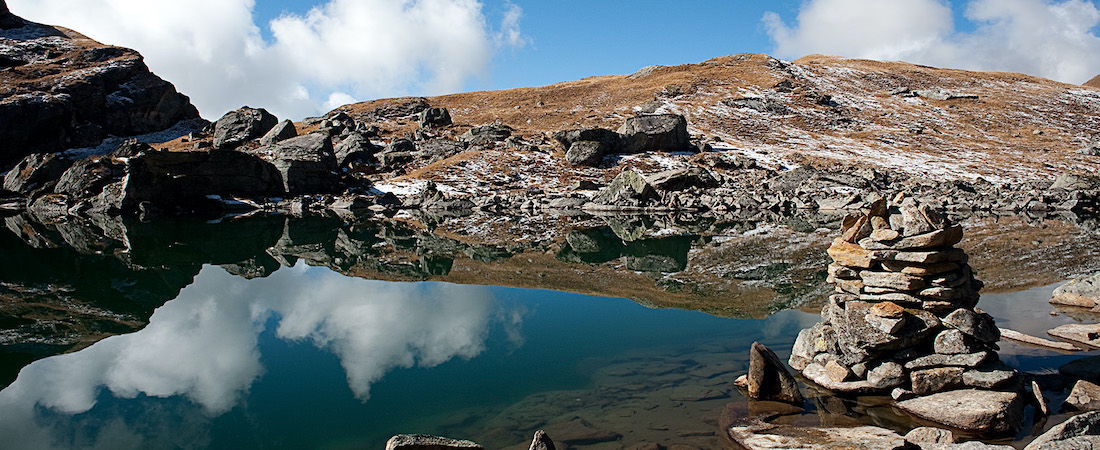 Vasuki Tal
A lake in which Lord Vishnu took a bath and that which reflects the pure peaks of Kedarnath. This is Vasuki Tal, a holy lake situated at a height of 4978 meters in Uttarakhand, just around 8 km up from Kedarnath. It lies amidst Chor Bamak Glacier and Vasuki Glacier. The lake is dotted with icebergs. The Vasuki Ganga River originates from this pristine lake.
History
The lake is named "Vasuki Tal" because "Vasuki" means "snake" and the lake looks like a curled up snake. The famous Kedarnath is just 5 km from this lake.
As the legend goes, Lord Vishnu had a bath in this lake on the occasion of the Hindu festival Rakshabandhan. This purified the lake.
What's Special
Vasuki Tal is a trekking heaven for adventurers. The enchanting beauty of the Himalayas promise to rejuvenate your body, mind, and spirit.
The trek route is characterized by rich flora and rare wildflowers that grow around the Vasuki Tal lake. You will also get to see the Himalayan Brahama Kamals, the rare plant known for its beautiful flowers that bloom in mid-monsoon. They are used in traditional medicine. The plant is related to the species of thistle plant. They are abundantly available only here.
Vasuki Tal lake gives you breath taking views of Chaukhamba Peaks, the mountain with four peaks ("Chau" means "four" and "Khamba" means "peak").
Vasuki Tal lake is the base of Mount Vasuki and Mount Satopanth.
Why You Must Visit Vasuki Tal
Apart from the love of trekking and adventure, a reason you must visit this divine place is to collect the holy water from Vasuki Tal lake. It is believed that this water when used in certain divine ritual can neutralize your karmic debts. This would give you an opportunity to live your life in the right manner and to enjoy unremitting material and spiritual growth.
Things To Do
Trekking is the main thing to do here.
The trek starts from Gangotri and ends at the Vasuki Tal lake.
The following are the height measurements from the sea level of each site that comes in the trek route:
Gangotri: 3415 meters
Chirbasa: 3580 meters
Bhojbasa: 3775 meters
Gomukh: 4255 meters
Tapovan: 4500 meters
Nandanvan: 4810 meters
Vasuki Tal: 4978 meters
The trek route features lush forests of cedar and pine trees that merge ahead with the path of glaciers.
As you trek here, the occasional sights of the wonderful Himalayan animals and Bharals will delight your eyes.
You can find see Sadhus (sages) meditating in the area. They live permanently in caves.
Trekking is best started early morning so that you finish off before dark.
The thrilling part of this trekking trip is crossing the Gangotri Glacier. Although the trek is moderately rough, this part requires skills. So, watch your foot!
Gangotri:
It takes 10-12 hours to reach Gangotri from Dehradun.
Gangotri is a well-known holy pilgrimage site. You can find hotels at this place. Take ample rest to energize yourselves. One way of absorbing the good vibrations quickly is to watch the pure and clean water of the holy Ganga.
Don't miss the Ganga aarti, which is so famous tourists from across the world come to participate in it.
As you begin your trek, visit the hot spring Gangnani to soothe your senses and energize yourselves fully.
Chirbasa:
Chirbasa is 9 km from Gangotri (3-4 hours).
As you trek along the Himalayan paths from Gangotri, pine trees will suddenly appear after 3-4 hours. This indicates you are almost at Chirbasa, which is a famous campsite of the Gaumukh Tapovan Trek. Here, you may find a dhaba (eating joint). Relish on the hot soupy noodles and tea, which seems to be a staple of this area.
If you wish, you can stay here and start again the next day.
Bhojbasa:
Bhojbasa is 5 km from Chirbasa (2-3 hours).
This is the last accommodation spot on the trekking route. You may find the rugged terrains a big challenging, although the route otherwise is easy to navigate. Bhagirathi River looks mesmerizing. Here is where you can spot a sadhu who lives in the cave.
There are a few tiny tent shops where they serve tea and coffee.
Gomukh:
Gomukh is 4 km from Bhojbasa (2-3 hours).
"Gomukh" means "face of the cow" and this is what the glacier looks like. Gomukh or Gaumukh or Gaumukhi finds a mention in the Puranas. It is believed that if you visit this place with evil intentions, you will face miserable things in life and your ancestors will burn in hell.
The Sacred Ganga originates from here. It is called Bhagirathi River here.
Trek route till Gomukh is not that difficult, although here it may be covered in snow.
Tapovan:
Tapovan is 5 km from Gomukh (2-3 hours).
Tapovan is home to marvelous alpine meadows. From here, trekking gets difficult. Be ready for a steep ascent. You have to reach a Boulder Zone, then cross the Gangotri glacier, and then come the lush grasslands (Tappvan), which leave you awestruck. You can clearly glance at the jaw-dropping Mount Shivling and Mount Meru.
Here, too, you may find a few of the cave-residing sadhus.
You can camp at this site and bask in the glory of pristine nature. It is advised that you stay here for a day to let your body acclimatize with the higher altitude. Do not proceed further immediately. Take ample rest.
Visit Neel Tal, one of the divine lakes here.
Nandanvan:
Nandanvan is 8 km from Tapovan (5-6 hours).
Now comes your trekking test. Ensure you eat a heavy breakfast before you start for the descend. Before that, you must cross the Akash Ganga stream to reach Gangotri glacier, which features thick ice sheet that can be slippery. Also watch out for rocks that may fall from above. You need ice ax and proper trekking equipment here.
Thereafter, you reach Nandanvan, which falls on the path of landslide prone area. So be careful and follow your guide.
Once you reach Nandanvan, you will forget everything in the world as the spectacular Mount Shivling and Mount Kedar Dome stare at you!
You can camp here for the night for a good rest.
Vasuki Tal:
Vasuki Tal is 6 km from Nandanvan (6-7 hours).
Finally, you are about to reach your destination. Embrace for a long rocky ascend that may leave you tired, but the trek is easier than the previous one.
Once you reach the heavenly Vasuki Tal, you feel on top of the world (and you almost are)!
From Kedarnath to Vasuki Tal
People on Kedarnath yatra (trip) can easily visit Vasuki Tal. It is a straight and continuous ascent route on a narrow track, around 8 km long. You need to traverse the Vasuki Glacier and the Chaturangi Glacier. This is a challenging trek route and demands good physical fitness.
From Vasuki Tal to Kedarnath
People on a trip to Vasuki Tal must not miss visiting Kedarnath. When you have come so far, why miss one of the most revered holy pilgrimage sites of India? From Vasuki Tal, you can take a straight downhill trek to Kedarnath. Do the darshan and spend a night there.
From Kedarnath, you can go to Gaurikund, which is a 16-km trek. From Gaurikund, you can easily get buses back to Rishikesh, Haridwar, or Delhi.
Accommodation
Camping at different campsites.
You can stay in a hotel in Gangotri before starting your trekking journey.
Essentials To Carry
Carry all essential trekking equipment like trekking shoes, ice axe, raincoat, waterproof shoes, and others.
Warm clothes. Summers are cold here (2-5 degrees Celsius). Winters are freezing (0 to -2 degrees Celsius).
If you are asthmatic, please carry an inhaler.
Pack an oxygen puff.
A bag for litter. (A gesture to respect nature and keep it clean, only then will Nature allow you to enter its terrain).
A good camera because the views are outstanding.
Battery backup facility.
Camping gear.
First aid kit and emergency medicines.
Your backpack should not weigh more than 10-12 kgs because you have to carry it and trek.
Preparation before trekking
Trekking here is moderately tough. It is advised that you practice walking or running 30 days before coming here to acclimatize your body to the physical movements. You need to be physically fit to come here and enjoy this place to the fullest.
Caution
Some people may get hallucinations due to insufficient oxygen.
There may not be internet connections or mobile networks at higher altitudes. Please make all important calls before you begin your trek. You may get a mobile signal at Vasuki Tal though.
People with respiratory troubles, breathing problems, and high blood pressure should consult a doctor before taking this trip.
How to Reach?
To start your trek to Vasuki Tal, you must first reach Dehradun and then begin from Gangotri (10-12 hours distance from Dehradun). People coming from other states can come to Delhi from where you can easily get a train or flight to Dehradun. The nearest airport is in Jolly Grant (27 km from Dehradun).
Please spare 10-12 days for the entire trek trip.
Best time to visit Vasuki Tal is from September to October.
It is vital to have a guide with you in all the trek routes. Please do not tread the paths alone. Weather at the Himalayas is unpredictable.
Best wishes for a Divine journey!