Krishna Sarovar
Not a sound. Only your heartbeats. Hear yourselves breathing. Nobody in sight. You are your only companion here. For a second, you might feel you are in some other world. But no, you are on Planet Earth.
Welcome to Krishna Sarovar.
If you are seeking tranquility, and we mean serious tranquility, head to Krishna Sarovar – an adventurous trek beginning from Triyugi Narayan in Rudraprayag district of "Devbhoomi" Uttarakhand, India.
History
Krishna Sarovar trek is the oldest trek of Gangotri. Much earlier, people used this route to take "kavad". In 2013, the Kedarnath flood eroded all soil in this area. Today, you will find the path strewn with only pebbles, stones, and rocks. You will also come across fallen trees. So watch your step each moment when you trek here.
What's Special?
Divine presence
Krishna Sarovar trek is one of the toughest, but once you reach the destination, it's worth it. You are enveloped with bliss and feel Divine energies here. There is something powerful here, something that calms you, soothes your senses.
Silence
You can hear only the sound of waterfall here. There is no other sound. This is the perfect place for meditation. Hear your own breath. Who knows, the sheer silence of the place makes you find your inner self!
Holy place
Locals regard Krishna Sarovar as a holy place, a place of local demi-Gods. When you reach Krishna Sarovar, you must take off your shoes and then enter the area, as a gesture of respect.
View
As you climb further and come closer to the peak, your eyes can feast on the spectacular views of Kedar peak, Chawkhamba parvat, Chandrashila peak, and Tungnath peak.
"Chhani"
The area is surrounded by dense forest. As you trek through the forest, you come across mainland where you will see "chhaani." This is a small hut like structure or shelter for cattle. If you come here in summer, you will find tribal people, who graze cattle, living here. In winter, they climb down to the village.
Water source
Water of Krishna Sarovar originates from the Himalayas and travels down to Triyugi Narayan. It first fills up Suraj Kund and then other kunds of Triyugi Narayan temple. Nobody yet knows from where the water travels, but it does underground at a spot in Krishna Sarovar from where it disappears and then reappears in the kund.
Story of the mysterious stones
Legend goes that one of the cattle grazers named Nandmohan was fascinated by the "disappearing" of water underground at Krishna Sarovar. He had heard that this water travels through some "hidden route" and reaches the kunds of Triyugi Narayan. But he did not believe this.
He tried to test whether this was true.
Thinking that buttermilk is white so can be easily seen, he poured the can of buttermilk through the tunnel route. Then he rushed down and reached the kund of Triyugi Narayan to see whether his buttermilk reached the kund. To his astonishment, the buttermilk did reach the kund!
The legend was true!
Nandmohan, satisfied by his test, climbed up where his cattle were grazing. To his horror, he found his cattle turned into stones!
He, at once, realized his mistake. This has happened because he had not believed the legend of the holy place and wanted to test whether the water really reached the kund.
As he sat under a tree, lamenting, he, too, turned into stone.
The stones, today, have worn off and may not be so easily distinguished among other stones. But, locals believe they are still there.
According to them, they will turn back into cattle and the cattle grazer the day when somebody with a pure Divine soul comes here and touches them.
Things To Do
1. Trek
Trekking is the main thing to do here.
The trek starts from Triyugi Narayan temple, where you will find a path just adjacent to the temple. This path takes you to the trek route. You cross a village. Then the climb begins. For the first half kilometer, you go through the village path. Then, as you go further, you leave the village behind and, now, you are the only one in the path.
The trek is a continuous climb for the next 5 km.
Trek level: Toughest
This trek is only for expert trekkers.
Trek duration: 8 hours
You must begin early morning so that you return before the night falls. It is dangerous to stay on the path or at the peak at night due to wildlife. You must return down to Triyugi Narayan by dusk.
Trekking at night is not recommended at Krishna Sarovar due to bears, leopards, and other wild animals.
A local guide is a must.
2. Meditate
Another important thing to do when you reach Krishna Sarovar is to meditate. As mentioned earlier, this is the perfect spot for meditation. Don't miss this opportunity. Sit for a few minutes with your eyes closed and in a comfortable posture. Feel the Divine energy passing through you.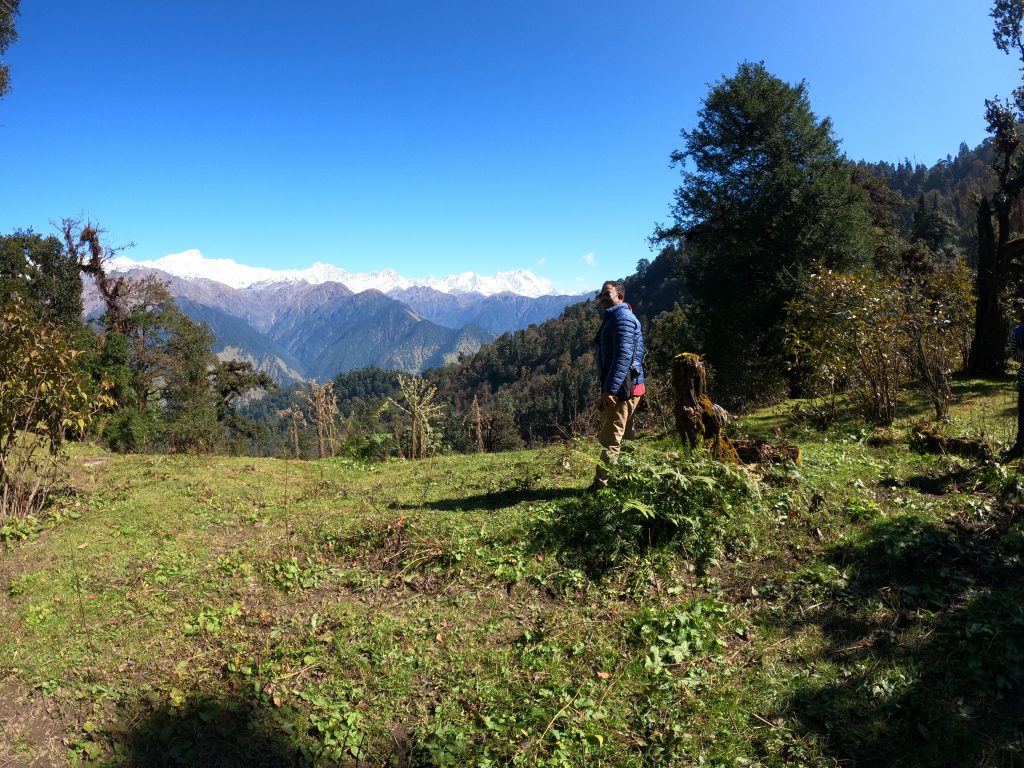 Accommodation
Accommodation is available at Triyugi Narayan. Please do not camp at Krishna Sarovar or anywhere along the trek route.
Essentials to Carry
Trekking shoes and stick
Food and water
High carb foods like cakes and cookies, chocolates, etc.
Litter bag
Binoculars and compass
Torch
Matchsticks and candle (to ward off some wild animal)
Whistle or trumpet (to frighten a wild animal)
Knee pads
Portable water filter (you mustn't drink water from a stream just like that)
Umbrella (weather is unpredictable here)
Please note: There is no mobile network at Krishna Sarovar. So, make any urgent calls before you begin your trek.
Precautions for the trek
Before coming here, check your fitness. Come here only if you are fit.
Begin your fitness routine 30-60 days before this trip. Climb stairs and walk for miles daily. Do some strength training and breathing exercises.
If you have high blood pressure or other condition, please consult your doctor before doing this trek.
Learn survival skills before starting the trek.
How to Reach?
Come to Triyugi Narayan, which is around 370 km road distance from Delhi. Krishna Sarovar trek starts from the temple.
Rishikesh and Dehradun are the nearest railway stations. The nearest airport is Jolly Grant.
Best Time to Visit
February to May and September to November.
Avoid coming in winter because the path is covered with snow and can be slippery. Also, the place has no light for one whole month. You will also not find the cattle grazers in "chhaani," as they, too, climb down during the cold months.
Come, feel the place where "pin-drop silence" is the way of life.