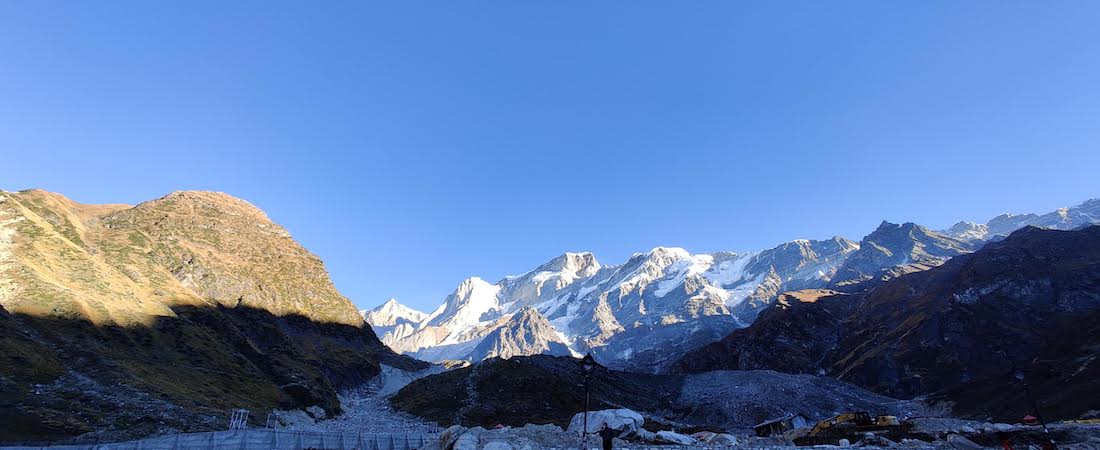 Kedarnath
One of the things to do before you die is to visit Kedarnath. And if you believe in God or the Divine Power, then you just can't miss this one. Kedarnath, at a height of 11,755 feet (3583 meters) from sea level, is one of the 12 Jyotirlingas of the Hindu God Shiva.
Nestled in the Garhwal Himalayas, in Rudraprayag district, 223 km from Rishikesh in Uttarakhand state, this place exudes Divine energies. No wonder it is one of the most sacred Pilgrim sites for the Hindus. Panch Kedar pilgrimage is a must-to-do in a lifetime.
History
"Kedarnath" means "Lord of the Field." The words are derived from Sanskrit words "Kedara," which means "field" and "Nath," which means "Lord."
Nobody knows who built the original Kedarnath temple and when it was built. But, this is a very ancient temple. Although mythology attributes the construction of this temple to Pandava brothers, there is no mention of any place called Kedarnath in the Mahabharata.
One earliest reference to Kedarnath is found in the "Skanda Purana" (c. 7th to 8th century). It mentions Kedara as a spot where Lord Shiva released the sacred waters of Ganga from his "jata" or matted hair.
As per folklore, when the Pandavas killed their cousins in the battle of Kurukshetra, they wanted to do penance for their sins because they killed their own ones and Brahmins. So, handing over the reins of the kingdom to their kin, they left to seek blessings of Lord Shiva. But they could not find the Lord.
According to the legend, they first visited Lord Shiva's favorite city Kashi (Varanasi). But, Lord Shiva was unhappy with the battle and did not want give "darshan" to the Pandavas. He took the form of Nandi (bull) and hid in the Garhwal Himalayas.
During the Pandavas' search for Lord Shiva in the Himalayas, Bhima spotted Nandi. It was grazing in Guptakashi or Hidden Kashi, the name derived from the hiding act of Lord Shiva. Bhima recognized Nandi as Lord Shiva and caught it by its hind legs and tail.
At once, Nandi disappeared in the ground, with:
Its hump showing in Kedarnath
Its arms appearing in Tungnath
Its face appearing in Rudranath
Its navel and stomach appearing in Madhyamaheswar
Its hair appearing in Kalpeshwar
Pandavas were happy to find Lord Shiva and they built temples at all the five spots where Shiva's parts appeared and worshipped him.
The above mentioned five places make for the sacred Panch Kedar Yatra or pilgrimage.
What's Special
Kedarnath temple, located near Chorabari glacier, which feeds the Mandakini River, is built from huge and evenly shaped slabs of grey stone.
Lord Shiva here is worshipped in the form of a conical rock form, which is the "Sadashiva" form. It features a pedestal 12 feet high and 12 feet in circumference. The temple has a small hall with pillars. It features images of Goddess Parvati, the five Pandavas, Nandi, Lord Krishna, Virbhadra (Lord Shiva's guard), and the vehicle of Lord Shiva.
An unusual thing inside the temple is a head of man, which is carved in the lingam. The same carving can also be seen in Triyugi Narayan temple, the place where Lord Shiva and Goddess Parvati married. It is about 27 km from Kedarnath.
The Kedarnath temple overlooks the Kedarnath peak and other majestic Himalayan peaks and the Kedar Dome.
Things To Do
Trekking
Camping
Rock Climbing
Exploring Kedarnath town and shopping at the small stores for spiritual themed mementos
Doing nothing – simply admiring the pristine beauty of the place and absorbing the divine energies!
Kedarnath temple:
Kedarnath temple is open from May to October. Visit the temple and do "darshan."
Darshan timings: 4:00 am to 3:00 pm and 5:00 pm to 9:00 pm
Abhishekam timings: 4:00 am to 3:00 pm
Bhairavnath Temple:
Just 500 meters away from the Kedarnath temple, on the east of the Kedarnath town is the Bhairavnath temple. Locals believe that when Kedarnath temple is closed during winter, Bhairavnath safeguards the town and the Kedarnath valley.
Darshan timings: 6:00 am to 8:00 pm
Samadhi of Adi Guru Shankaracharya:
Samadhi of Adi Guru Shankaracharya is located just behind the Kedarnath temple. Adi Shankaracharya was a great saint and scholar, who built four holy "mathas" across India, after which he attained Nirvana at this place. He was just 32 years then! The flash flood of 2013, which had washed away the entire town of Kedarnath (barring the temple), destroyed this Samadhi too; but you can still visit the spot and feel the healing energy. The Samadhi had mysterious healing properties and the ability to eliminate negative karma and curses.
Vasuki Tal:
Vasuki Tal is a divine lake situated 8 km on upward trek route from Kedarnath. It is believed that Lord Shiva bathed in this lake. The rare Brahma Kamal flowers are found here.
Chorabari Tal/Gandhi Sarovar:
Chorabari Tal is 3 km from Kedarnath town. In 1948, some of the ashes of Mahatma Gandhi were immersed in this lake and so it came to be called Gandhi Sarovar. As per a legend, this is the spot where Lord Shiva imparted yoga knowledge to the saptrishis. The lake is fed by Chorabari Bamak glacier. There is Bhairava Cliff just close by that features Bhairav temple. Earlier, pilgrims used to jump off the cliff under the belief that it would give them mukti. Jumping is banned now, so please don't try!
Kedarnath peak:
After "darshan" at the Kedarnath temple, you can go off on a trek to Kedarnath peak, which is 3584 meters high. The stunning beauty of the Himalayas will spellbind you.
Sunset Point:
Sunset Point is the base location for treks to Chandrashila and Tungnath. You can camp here overnight. (distance)
Char Dham Yatra
The Char Dham pilgrimage sites are:
Yamunotri
Gangotri
Kedarnath
Badrinath
Yamunotri
Yamunotri, at a height of 3233 meters, is dedicated to the holy Yamuna River. A dip in this holy river is said to safeguard a person from untimely death. Char Dham yatra starts from here. This is a steep trek of around 3 km and takes 3-4 hours.
Gangotri
Gangotri is in Uttarkashi and a 12-hour drive from Rishikesh. From Yamunotri, it is 114 km. As per legend, holy Ganga River descended from heaven to earth from here. The real origin of the river is at Gaumukh at the Gangotri glacier, which is 19 km from this dham. A dip in Ganga washes off your sin. Well, that's the staunch belief of the Hindus in India.
Kedarnath
Distance from Gangotri to Kedarnath is around 400 km and it may take you 9-12 hours by road, depending on the traffic.
Badrinath
This is where your Char Dham yatra ends. Badrinath is located at a height of 3100 meters on the banks of the Alaknanda River, around 224 km from Kedarnath. It may take you 8-9 hours to reach here from Kedarnath by road. Badrinath is dedicated to Lord Vishnu. The temple stays closed during winter due to heavy snowfall. 
Panch Kedar Yatra
As mentioned earlier, Panch Kedar sites are dedicated to each body part of Lord Shiva. Here's a glimpse of the panch or five Kedar sites:
Kedarnath: Lord Shiva is worshipped in a conical rock form, which is believed to be the hump of the Lord.
Tungnath: Lord Shiva's arms are worshipped here. This is one of the world's highest Shiva temples (3680 meters).
Rudranath: Lord Shiva is worshipped in this natural rock temple as "Neelkanth Mahadev," as it is believed that Shiva's face appeared here. Four holy kunds are present here – Mana Kund, Tara Kund, Chandra Kund, and Surya Kund.
Madhyamaheshwar: Lord Shiva's navel is worshipped here. The temple is nestled in a lush green valley of Mansoona Village. The view will take your breath away, as the temple is surrounded with majestic snow-covered peaks of Kedarnath, Neelkanth, and Choukhamba.
Kalpeshwar: Lord Shiva's jata or hair are worshipped here. Of all the five temples, this is the only temple open all round the year.
Accommodation
Kedarnath is in a remote place. So, you won't find many accommodation options here. However, you can find rooms, tents, and cottages here. Hotels and resorts are available a few kilometers away from Kedarnath.
Essentials To Carry
Trekking equipment and shoes.
First aid kit and emergency medicines.
Warm clothing.
How to Reach?
The nearest airport is in Jolly Grant near Dehradun, around 239 km away from Kedarnath. This airport is well connected to Gaurikund, the base camp of Kedarnath, through road. From Gaurikund, Kedarnath is a 14-km trek.
The nearest railway station is in Rishikesh, about 215 km away. In Kedarnath, you must roam around by foot only. No other mode of transport is available due to hilly terrain. Horses, mules, and porters are available for carrying luggage.
The best time to visit Kedarnath is in summer in the months of May and June. Avoid coming here in winter and in monsoon, as the area is prone to landslides.
The temple is closed for six months in a year, from the beginning of November till the end of April. The deity is shifted to Ukhimath during winter for worshipping.
One Incident That Proves Kedarnath is a Must-Visit Place
At around 7:30 pm on the fateful day of June 16, 2013, people of Kedarnath heard a loud thunder. A massive landslide occurred at Kedarnath. By around 8:30 pm, a gush of colossal amounts of water from Chorabari Tal down to the Mandakini River washed off almost the whole Kedarnath town.
At around 6:40 am the next morning, a second gush of water from Chorabari Tal headed towards the town. The flow also brought gigantic amounts of rocks, silt, and boulders wiping out everything on the way.
One giant boulder got stuck just behind the Kedarnath temple. This protected the temple from the flood. The result was that water gushed from both sides of the temple, but nothing happened to the temple.
Almost the entire Kedarnath town was destroyed. Thousands of people died and thousands more were either trapped or missing. The rescue operation teams airlifted over 1,00,000 people, as per reports.
The whole town had become a ghost town. Dead bodies were lying outside the temple and around it in heaps. Those who were inside the temple were saved without a scratch.
Kedarnath temple stood tall and high, unshakable.
This, in itself, proves that the temple has a Divine energy, which protected it during the fateful day. It truly is a must-visit place.
Caution: Please do not trek to Kedarnath during night. You might encounter some wild animal like bear and others. It is risky.
Best wishes for visiting the home of the God!