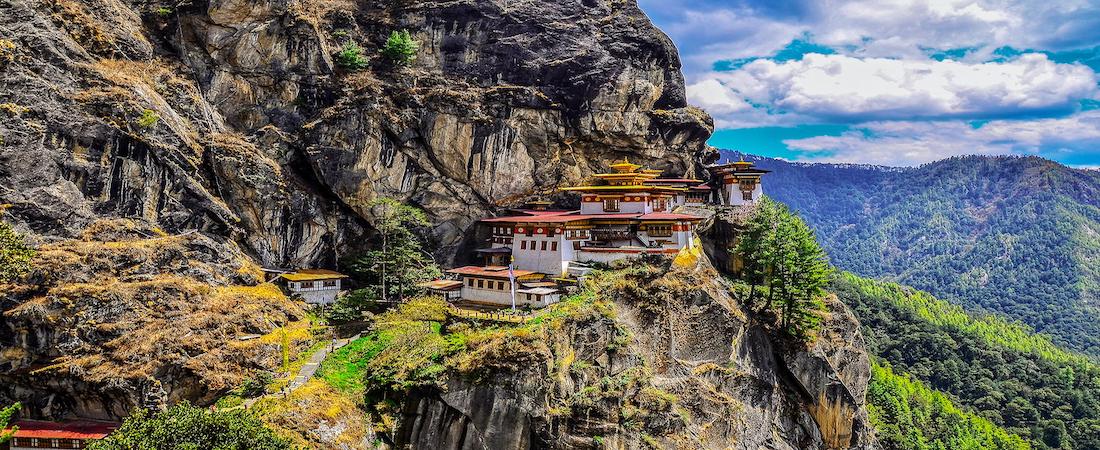 Tiger Nest
Many of you may have visited the Eiffel Tower in Paris, climbed to the top and felt on top of the world, yeah? Well, there's a place in Bhutan at an altitude of 10,240 feet. When you visit this place and climb to the top, you don't feel you are on top of the world; you feel you are in heaven! It's a complete out-of-the-world experience.
This is Tiger's Nest for you, also called Taktsang Monastery. It is a Himalayan Buddhist temple, constructed on a steep cliff in the Paro Valley in Bhutan, and a must-see atleast once in a life-time.
History
The Tiger's Nest appears to be a single big structure from far below, but it is actually a cluster of four temples and a residential complex for monks. They were constructed in 1692 around the historical Takstang Senge Samdup cave in which Guru Padmasambhava (Guru Rinpoche) is believed to have meditated, practiced, and taught Vajrayana Buddhism. He is the one who introduced Buddhism to Bhutan.
Vajrayana is one of the names that refers to the Buddhist traditions of secret "tantra-mantra" techniques.
Legend goes that the Guru reached the cave from Tibet on the back of a tigress, who was really his wife. Another legend goes that it was a flying tigress and the Guru flew to the cave on its back. Thus, the place got its name Taktsang. "Takt" means "tiger" and "sang" means "nest."
It is believed that the Guru meditated in the cave exactly for 3 years, 3 months, 3 weeks, 3 days, and 3 hours. Legend has it that Guru Rinpoche appeared in 8 incarnations (manifestations) and, hence, the place turned into a holy site.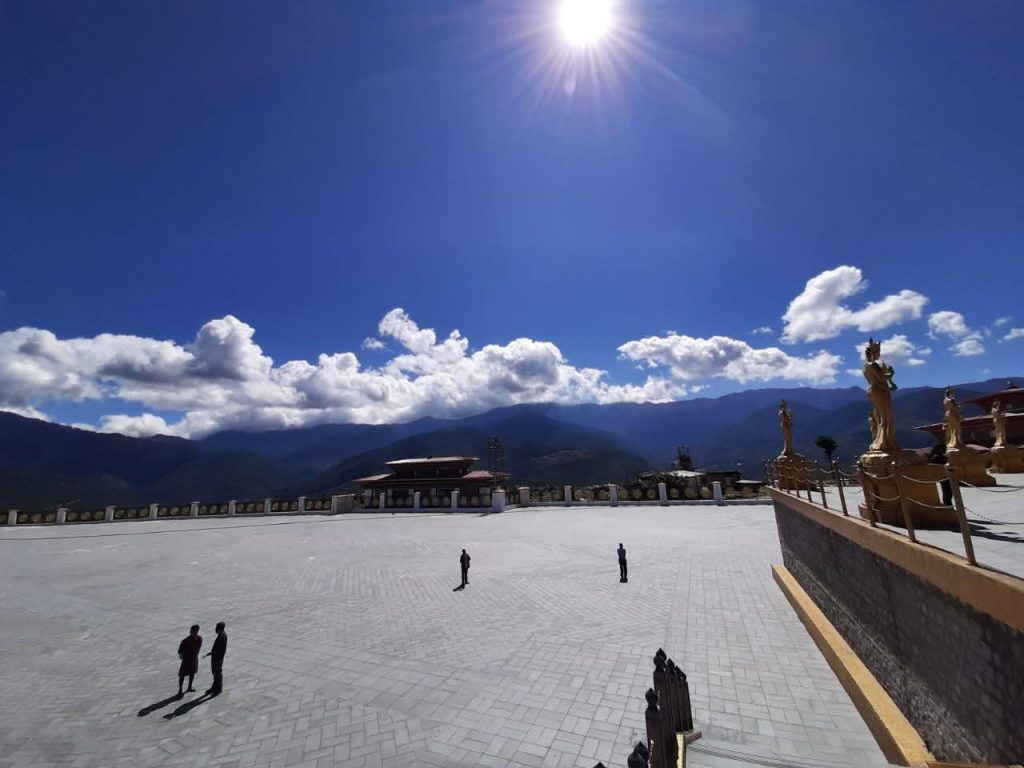 What's Special
The Tiger's Nest, in itself, is special. Firstly, it is quite astonishing to see a well-structured building constructed at the edge of the cliff. How was it built? This is the ultimate place to get soaked up with Buddhist culture and traditions.
Things To Do
Reaching the base site
Tiger's Nest is situated 11.7 km from Paro City. To visit the monastery, you must trek on foot. There is no other way. The path is too narrow for vehicles to pass. You can reach the base site by car though.
Here, you will find shops selling souvenirs and hiking poles. You can also get a horse, if you don't wish to walk. It is recommended that you take a hiking pole. This will help you in descend. Also, it is good to have a guide with you.
Temple entry fee: INR 500 (subject to change, please check the latest rates)
Trek distance: 12 km
Time needed: 5-7 hours round trip
Altitude: 10,240 feet (3120 meters)
Trek level: Moderate (it depends on your fitness level and previous trekking experience)
Trek tips
Anybody can trek to Tiger's Nest, so don't worry. The only thing to keep in mind is to listen to your body and be slow and steady in your journey. Just take your time and enjoy the view. Take short breaks in between, drink lots of water, and wear proper hiking shoes.
Starting the trek
The trek path is a continuous ascent, but not steep. The path is actually muddy road. On one side is the mountain; on the other deep valley. The path also has a shortcut, but please do not take it unless you are a professional trekker. It is very steep and difficult.
Prayer flags
As you walk along, you would come to widened spots in places. You will also spot colorful prayer flags every now and then at places. It is believed that these flags keep evil spirits at bay. Good, you don't want to encounter an evil spirit on the way!
Within half an hour of your trek, you would see a tiny spot. Yes, it's Tiger's Nest, waiting for you, but it's still far!
Prayer wheels and Cafeteria
As you reach halfway of the trek, you come to a plateau area (flat area). Catch the sight of prayer wheels here. A cafeteria also greets you here. Time for some tea and snacks. Rest a bit here, enjoying the beautiful scenes. And don't forget to spin those wheels before you resume your journey.
The iconic photography spot
As you walk through the muddy path, you come to a spot where you overlook the monastery. This is an excellent spot to click memorable photos. Don't miss!
The deceptive descend
After a while, you would start to descend. Don't be puzzled. You are still on the right path. You must go down a bit through the stone staircase and then go up to reach Tiger's Nest. Interesting! You also cross a bridge, which is teeming with prayer flags. After that starts the ascend again; this time it is a bit steeper.
Climbing stairs
After you trek for around say 3 hours, you see a flight of stairs. Finally, you are about to reach, but not too soon! You still need to be patient. You will come across a small waterfall on your way. If you come here in winter, you may see ice.
Lighting candles
Just before reaching the monastery, there is a shade where you can light candles. This place is almost enveloped with colorful prayer flags, maybe a million of them! An extra ordinary sight, indeed!
At the monastery
Yes, you have reached the Tiger's Nest. Pinch yourselves, if you don't believe you have done it! You must leave your shoes, camera, and backpack with the security staff room just outside the monastery. Your guide will take you inside the temple and tell you all about the four temples and their tales. It usually takes an hour inside the Tiger's Nest, but you wouldn't know, as you would be so engrossed in the tales and the temple's vibes!
Time to return. Take the same path down.
Accommodation
Hotels and resorts are available near the Tiger's Nest at and around the base area.
Essentials To Carry
Hiking pole (You can buy it at the base site)
Plenty of water
Snacks to eat in between the trail (there is a cafeteria, but only after reaching halfway)
Appropriate clothing, such as light jacket for early morning, modest clothing for both men and women that covers your shoulders and legs (no shorts and spaghetti tops please in front of monks as a gesture of respect)
Hiking shoes
Wear socks, if you don't like to walk barefoot because you must leave your shoes outside the monastery
Good camera
How To Reach
People from Bangladesh and India can reach Paro city by road. People from other countries must fly to Paro. The city has an International airport, which is the only one in Bhutan and is 6 km from Paro Valley. Flight from Delhi to Paro takes about 2 hours and 20-45 minutes. Another route is to fly to Guwahati and Siliguri and then travel via road to Paro.
You can also drive all the way from Delhi to Paro. This is a 32-hour drive and an altogether different travel experience. You must have a valid visa to enter Bhutan.
When to Visit
October to December is the best time to visit Tiger's Nest. Winter is clear here, but cold. April to June is also a good time, but is rather crowded by tourists. However, Bhutan looks the most beautiful with blooming flowers at this time. After June, it becomes hot.
Pack your bags for an extra ordinary experience!