Roop Kund
Roopkund, also called Skeleton Lake, is a lake shrouded in mystery. Located at an altitude of 16,499 feet (5000+ meters) in the lap of Trishul massif in the interiors of Chamoli district in Uttarakhand, this glacial lake is well known for its bone chilling view of the skeletons of humans and horses found floating in it.
History
Roopkund has interesting mythological stories associated with it. One legend goes that Goddess Parvati was enchanted by seeing her own beautiful reflection in the lake. She was so happy that she offered half of her beauty to this lake. That's why the lake is called Roopkund. "Roop" means "beauty."
Indeed, the lake is stunningly beauty with spectacular surroundings. You can enjoy a panoramic view of the mesmerizing Nandaghunti, Trishuli, and other grand peaks from this lake.
Another legend says that when Goddess Parvati had slayed a demon and she and Lord Shiva were on their way back to Kailash Parvat, the Goddess wanted to cleanse herself. Lord Shiva created a lake using his Trishul. When the Goddess took a dip in the lake, she was awed by her own beautiful reflection. And so the lake was named Roopkund.
The Mystery of the Skeletons in Roopkund
Roopkund is known not only for its enchanting beauty, but also for the terrible sight of hundreds of skeletons that become visible floating on the waters of the lake as the snow melts.
There are several theories associated with this.
One of the theories suggests that the skeletons are of people who may have died due to landslide or some ritual suicide or epidemic. Some British explorers are of the view that the skeletons are of General Zorawar Singh's army who had lost their way and died due to harshness of weather while returning home after the 1841 Battle of Tibet.
A few historians believe that the skeletons are of the army of Mohammad Tughlak, who attacked the Garhwal Himalayas but was unsuccessful.
Another interesting theory says that King Jasdhawal of Kanauj went on a pilgrimage to Nanda Devi mountains in the Himalayas to celebrate the birth of his heir. However, his entourage got killed due to the fury of Latu, a local deity, who inflicted a monstrous hailstorm and everyone fell in the lake and died.
The Truth of the Skeletons
In 2004, an operation was carried out and was found that the bodies were ages old, around 850AD. DNA test was done and it showed that the skeletons were of two different groups of people. One group was closely related, while the other group was different.
Bamboo staves, leather, spears, rings, and shoes were also found nearby. This led to the theory that the dead people were pilgrims and the other group could be locals who might be guiding them.
Mystery of the Cracks in the Skulls Found in Roopkund
One thing that baffled experts was the short, deep cracks that were present in almost all the skulls. After investigation, it was found that the wounds were inflicted by some round object. All bodies had wounds only on their shoulders and heads. It seemed as if somebody hit them with round objects (stones maybe) from directly above.
The mystery of the cracks in the skull still remains unsolved.
However, a popular "pahadi" song (folklore) goes that the Goddess of the area was furious with people who intruded in her mountain sanctuary and she threw hailstones that were "as hard as iron" on them. The stones are believed to be as big as a cricket ball. The impact led to the death of the travelers.
When you listen to this song, the theory of the experts seems to be true. Around 200 people died around the lake due to a sudden and monstrous hailstorm. Their skeletons still float in the waters of the lake!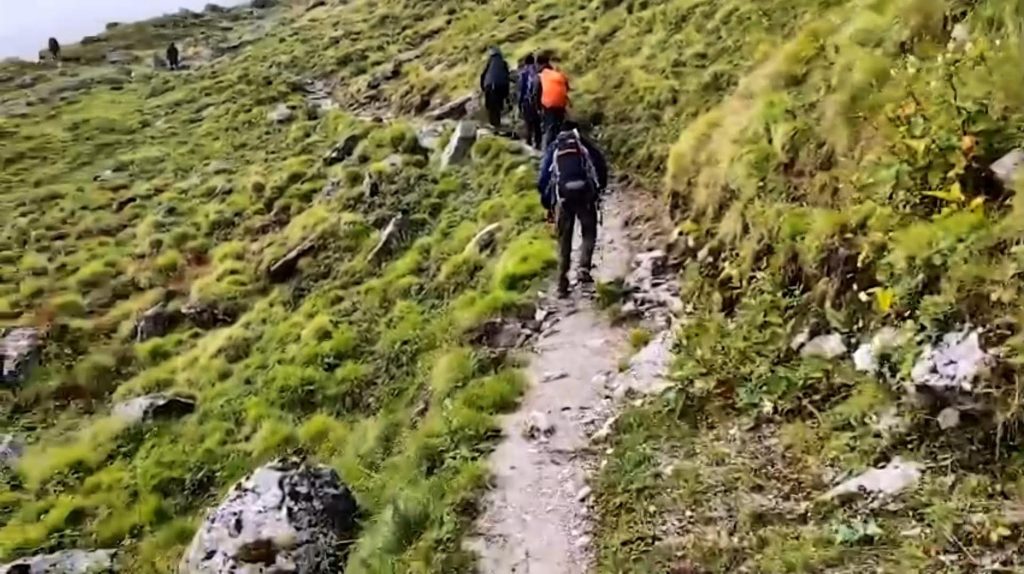 What's Special
Apart from the skeletons, of course, Roopkund is known for its pristine beauty, the stunning landscapes, and the panoramic view it offers. This gives visitors a surreal experience.
The heavenly peaks of Badrinath and Trishul are visible from Roopkund.
Things To Do
Come to Roopkund for a spiritual experience. Trekking is the main thing to do here, besides basking in the beauty of Divine nature.
The climate is cold here and the trekking routes are moderate to difficult. So, come prepared accordingly.
This trek route is difficult in level and not recommended for beginners. You will come across conifer forests and vast grassy lands called bugyals.
The trek begins in Lohagunj.
Take the Lord Curzon trail and go steadily uphill passing the Lohajung Pass.
You will then reach the Bedni River. The Himalayan beauty is enchanting.
From here you reach Ali Bugyal.
Then continue to Ghora Lotani. You might come across a Himalayan magpie on your way!
From Ghora Lotani, you reach Bhagwabasa. Be prepared for zig-zag routes that make the trek more difficult, coupled with icy cold winds and the high altitude.
Finally, you reach Roopkund.
Accommodation
Please note that the Uttarakhand High Court has banned camping on two of the biggest meadows of India – Bedni Bugyal and Ali Bugyal. This is to preserve their natural beauty. Earlier, the entire trek route was banned, but it opened this year (2021). However, you can still not camp on bugyals. Just pass through them.
Essentials To Carry
Trekking equipment and shoes.
Warm clothes.
Battery backup.
Litter bag.
Raincoats, sunscreen, sun shades.
First aid kit and emergency medicines.
How to Reach?
From Delhi, travel to Haridwar by bus. From there, travel through Rishikesh, Rudraprayag, Karnaprayag, and Lohagunj, where the trek begins.
Nearest airport to Roopkund is in Jolly Grant, 27 km from Dehradun.
Nearest railway stations are at Haridwar and Rishikesh.
Caution
Roopkund is a high altitude trek and considered difficult. You should have good physical fitness and mental endurance. Trekking is extremely challenging during winter. Acclimatize your body well. Drink plenty of water during the trek, even during cold months.
Trekking during winter is risky, as the path becomes unmarked due to snow. It is not recommended for beginners.
Never trek alone. You must have a guide with you during the entire trek.
Best time to visit Roopkund is from May to October.
Best wishes for a dream journey!