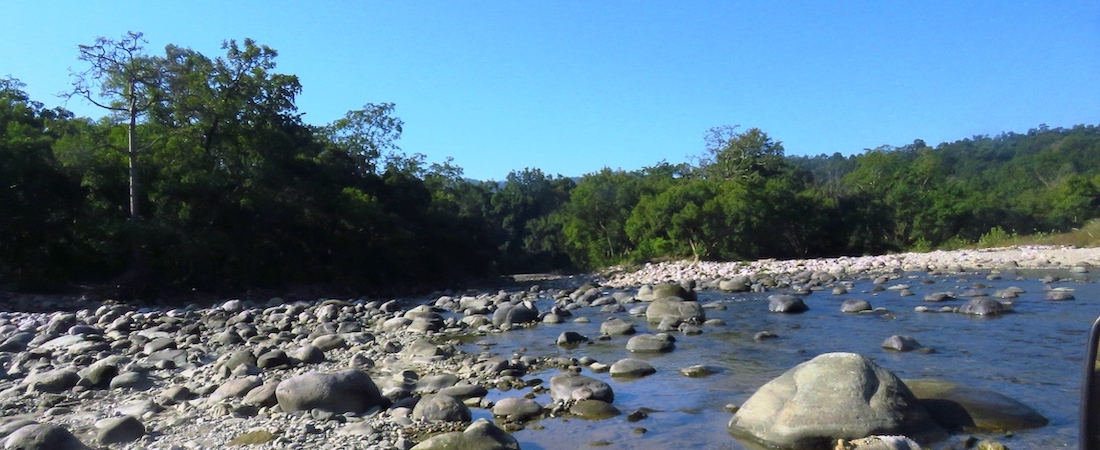 Kalagarh Tiger Reserve
Just a 6-hour drive from the Capital of India Delhi lies a beautiful abode of tigers and other wild animals, nestled in the lush "basket of nature" Lansdowne.
This is Kalagarh Tiger Reserve for you, a wildlife sanctuary sprawled in more than 300 sq km and located 13 km from the lush Lansdowne. It constitutes the north part of the famous Jim Corbett Park and is situated along with Lansdowne Forest Division, Uttarakhand, India.
History
When Jim Corbett Park was set up in 1974 with the launch of the Tiger Project, the north area of the park was renamed as Kalagarh Tiger Reserve. Its administration headquarters is in Nainital District. But, it is registered under Lansdowne division.
The reserve includes Sonanadi Wildlife Sanctuary. About 70 per cent of Corbett lies in Pauri Garhwal District. The remaining part lies in Almora and Nainital Districts.
What's Special
The fact that Kalagarh Tiger Reserve is a part of the world famous Jim Corbett National Park makes it more special. The reserve has emerged as one of the hottest tourist attractions of the country.
Kalagarh Tiger Reserve has four entries:
Durgadevi Gate
Maidavan
Kalingo
Vatanvasa (from here you can visit Sonanadi Wildlife Sanctuary)
Kalagarh Tiger Reserve is a heaven for wildlife and nature lovers. Besides tigers of course, the place has plenty of flora and fauna. You can find here exotic plants and animals, some of them you may never have seen in your life before.
This is the home of tigers and leopards. In addition, you will find other members of the cat's family. Then there are elephants, barking deers, sambar, chital, hog deer, goral, porcupines, langurs, and yellow-throated martens.
This is the perfect place for bird watchers. The reserve harbors more than 580 species of birds! They include hornbills, kingfishers, green magpies, wagtails, vultures, eagles, pheasants, woodpeckers, Indian pitta, forktails, and lots more. Have you ever seen a yellow pigeon? It's here!
That's not all. The place has more than 25 species of reptiles, including king cobra, crocodiles, monitor lizards, and rock pythons. You will find innumerable insect species here.
Kalagarh Tiger Reserve features a rich variety of flora. Lush green sal, sheesham, tun, semal, haladu, bakli, bamboo, and other trees and medicinal plants welcome you to the rich nature's abode.
Things To Do
Jungle Safari
Bird Watching
Camping
Jungle Safari
Jungle safari is a thrilling thing to do here; in fact, there is no point coming here, if you don't go on a jungle or jeep safari. Jeeps are available at various entry points of the reserve. Private vehicles are not allowed inside the reserve. Safari duration is of 2-3 hours. See if you spot a tiger!
There is separate charge for gypsy and for entry into the reserve. Guide charges are extra.
Bird watching
With more than 580 species of resident and endemic birds, migratory birds, and passage birds, this truly is paradise for bird lovers. Be patient, silent, and watchful. You may spot your dream bird here!
Camping
If you wish to live amidst nature and experience how it feels to be near to wildlife, you can spend a night in the forest of Sonanadi. Wildlife safari tour packages are available for 1 night, 2 nights, and 3 nights. Stay at the Forest Rest House or any of the budgeted or luxurious accommodation inside the forest.
Accommodation
Lansdowne has beautiful hotels and resorts. Private cottages and camps are available at buffer zone of the tiger reserve. They are just near the reserved forest and give you a good time residing amidst nature.
You can also stay at the Forest Rest House of Pakhro, Rathuwadhab, Halduparao, Mundiyapani, Sendhikhal, and others. These are government rest houses.
Essentials To Carry
If you are coming in winter, warm clothes are a must
If you are coming in summer, wear light and comfortable clothes
Carry water and snacks with you during jungle safari
Camera
Always carry litter bags, as you do not want to pollute nature
How to reach
Kalagarh Tiger Reserve is 275 km from Delhi (around 6-hour drive through the NH-58 via Bijnor). You can also travel in train and reach Kotdwar railway station, which is the nearest station at 19 km distance. Vatanvasa Gate of the reserve is near to Kotdwar.
The reserve is located in Lansdowne area of Pauri Garhwal. While driving, take a right from Dugadda Bridge and you will be on the forest trail to the reserve.
The nearest airport is Jolly Grant in Dehradun.
Two new gates have been constructed as entry points to Kalagarh Tiger Reserve for those coming from Dugadda near Kotdwar. One is on the Pakhro side and the other is at Sendikhal Ratwadhang. Both the gates are convenient entry points for those traveling from Delhi.
When to visit
Kalagarh Tiger Reserve is open from November 15 to June 15.
Wildlife is calling!