Saptkund Trek
If you wish to test your trekking skills, challenge yourselves, and wish a spiritual experience, come to Saptakund, which means "Seven Lakes." It is a cluster of mystical lakes in Chamoli district of Uttarakhand, at the foothills of the majestic Nanda Ghunti peak at a height of 5000 meters above sea level.
This is one of the most challenging treks of the Himalayan region and also little known, which makes it even more exciting for adventure seekers.
History
The glacial lake is ½ km long and an intriguing dark blue. It is the chief source of Yamuna River. Champasar glacier feeds this kund, which has rocky glaciers all around it. Water of other glaciers also collect in this kund.
Legend also goes that Lord Shiva himself lived here. Locals of the surrounding villages visit Saptkund every year for an annual ritual.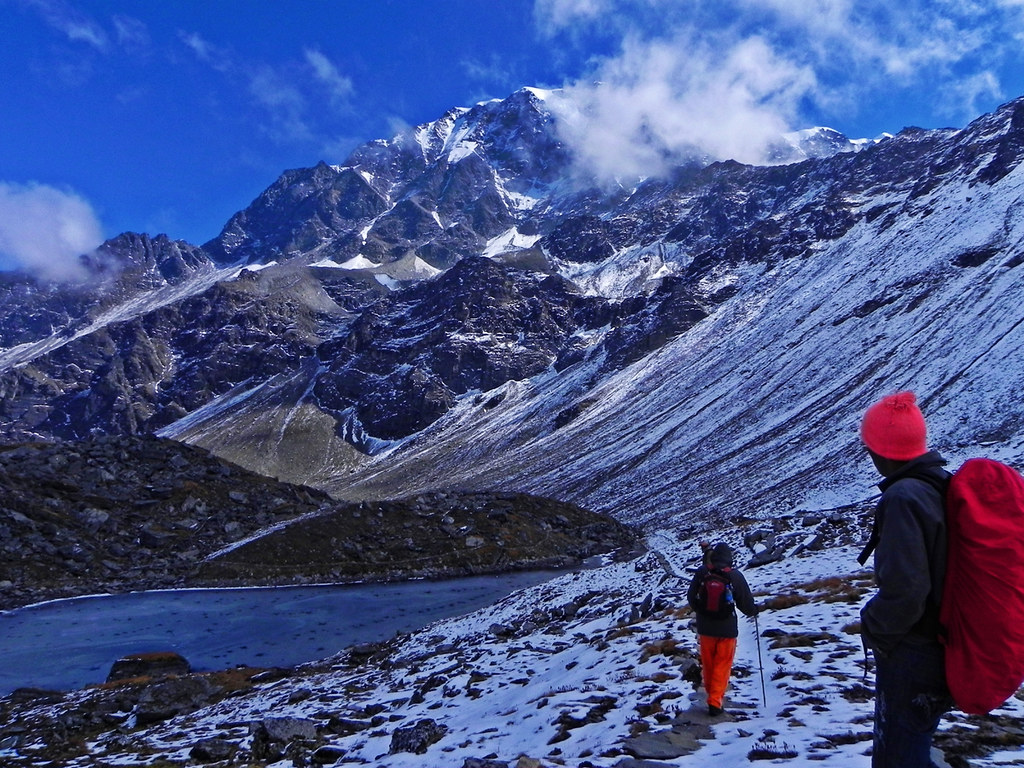 What's Special
Saptkund is the place where, as mentioned earlier, seven rishis did penance. These were no ordinary rishis. They were created by Lord Brahma and imparted knowledge by Lord Shiva. They did penance to guide humankind through divine power and knowledge.
The banks of the Saptkund features natural-made slate stones. You will also find the rare Bramha Kamal plant here.
You can find the precious gemstone, blue sapphire naturally occurring here!
It is believed that if you collect the holy water from all the seven lakes and use it for Rudrabhishek with particular mantras, your will remove your energy blockages and activate all your seven energy chakras. This will bless you with eternally abundant energy, focus, and determination to succeed. You will give your peak performance.
Things To Do
This is a trekking trip. The entire trekking path cuts through rugged mountain terrain and thick forests.
The trek is at a level of moderate to difficult.
Trek route:
Starts at Ghuni or Ghat village
Ghuni to Dhouldhari
Dhouldhari to Patharkuni
Patharkuni to Simbe Bugyal
Simbe Bugyal to Saptkund
Ghuni Village
Ghuni village is located around 16 km from Ghat town in Chamoli tehsil in Chamoli district of Uttarakhand. This is the starting point of Saptkund trek. Accommodation is available here. Take ample rest before you begin your trek journey.
Ghuni to Dhouldhari
The trek route begins with a gradual ascent and then becomes a steep ascent. You can camp at Dhouldhari, which overlooks the grand Chaukhamba and Trishul peaks.
Dhouldhari to Patharkuni
This trek route, too, is like the previous one, from gradual to steep ascent. The snow-clad majestic Himalayas accompany you almost everywhere on this route, giving you a heavenly experience.
Patharkuni to Simbe Bugyal
Simbe Bugyal is one of the most beautiful camping sites on this trek route. This is an unknown and untouched valley of flowers. You will be stunned to see a carpet of flowers of different varieties and colors spanning kilometers of this area. They bloom during August to September. It looks like a fairy land!
Simbe Bugyal to Saptkund
Once you reach Saptkund, you will feel the heavenly touch of the Divine. The lakes appear spiritual and serene. It truly gives you an out-of-the-world experience. It's very windy out there, so you cannot camp at Saptkund. It's risky. Simply explore the lakes, spend some time to absorb the divine vibes of the place, and collect the holy water. Then descend.
You can descend through the same route or take the Peri route. Here, you can get jeeps that will take you back to Ghat village.
Accommodation
Camping at various camp sites.
Essentials To Carry
Carry enough food and water, as there are no villages and shops in the trek route.
Get your essentials from Ghat itself. If you are traveling by vehicle, fill in petrol here. After that, you won't get any chance.
Bring along a first aid kit and emergency medicines.
Pack warm clothes.
Carry all essential trekking equipment, shoes, and others.
How to Reach?
You start your trek at Ghuni village. If you are in Delhi, you can easily get a bus to Haridwar. From there, travel through Rishikesh, Devprayag, Srinagar, Rudraprayag, Nandprayag, Ghat, and Ghuni.
Ghuni is 16 km from Ghat.
People coming from other states can come to Delhi first or go straight to Haridwar.
Best time to visit Saptkund is between May and September.
Caution
Please do fitness training 60 days before this trip. Walk, jog, swim, cycle, climb stairs, do cardio, do strength training, squats, lunges, push-ups, yoga asanas, and breathing exercises. You need to be physically fit and with high physical and mental endurance to undergo this trek trip.
Please consult a doctor if you are suffering from high blood pressure, respiratory problems, or breathing problem before planning this trip.
A Divine experience awaits you at Saptkund!