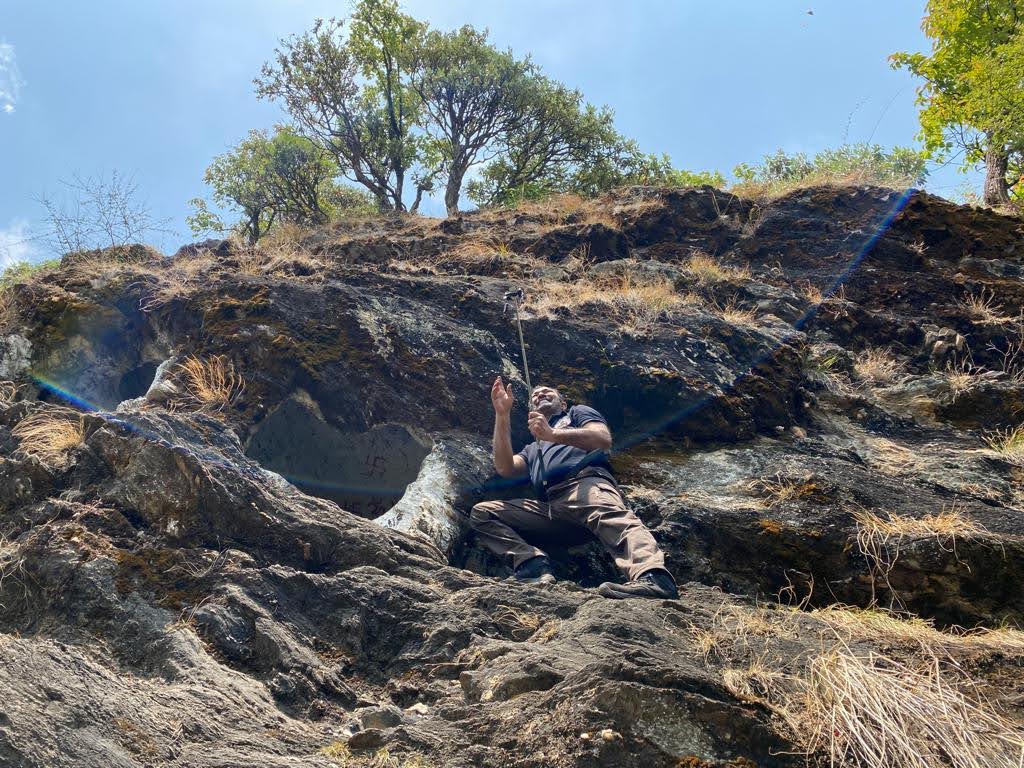 Gauri Gufa
Gauri Gufa (Gauri Cave) is unique. It is hard to find a cave like this one. The world has many caves atop hills and inside forests, but this one is extra ordinary, not just appearance-wise, but also in the way you feel when you come here. 
An almost unknown cave nestled deep inside the forests of pristine Uttarakhand tells us about the rich history and natural beauty of this part of India. 
So, if you are game for adventure and a rendezvous with something Divine, don your trekking shoes. Come to Gauri Gufa. 
History
Legend says that Goddess Parvati (also known as Gauri), in her 108th birth incarnation, did intense "sadhna" or meditation inside the cave so that she could marry Lord Shiva.
What's Special?
The interior of the cave is shaped like the head of a cobra. It has three openings. The cave is atop a very steep hill, which is almost vertical and impossible to climb. 
Yet, there are some people who climb it without any mountaineering gear or rope. 
As told by Mystic Traveller Anoop, it is possible to climb to this cave with bare hands and no support only when you have blessings of Maa Gauri and Lord Shiva. Your own will power is not enough. Anoop himself climbed to the cave successfully without any gear and felt the Divine blessings upon him during those breathtaking moments. 
Gauri Gufa and its surrounding area is the best spot for meditation. The place is tranquil and invokes peaceful feelings in you.
Things To Do
Trekking is the main thing to do here. You can reach Gauri Gufa only through trekking. 
Before starting the trek, you may want to visit Triyugi Narayan temple located in Triyugi Narayan village. The trek for Gauri Gufa actually starts from here. 
Base camp: Triyugi Narayan village. 
Starting point of trek: A path goes just adjacent to the temple. You must follow the path and start your trek. 
Trek level: Moderate to tough trek. Make sure you are fit. 
Gauri Gufa is 1.5 km (trekking) from Triyugi Narayan temple. 
Starting the trek…
As you start your trek from the village, you go along narrow lanes that are rocky and uneven. So, please be careful. 
Don't touch those plants! 
At one spot, you would find a lot of Bichhuvati plants. If you touch these plants, your skin will burn for 24 hours. In case a plant "bites" you, do not panic. Rub some fresh Bhang leaves on the affected area. Locals say that once you are bitten, you won't fall sick for one whole year! They even cook this plant and make sabzi. 
Organic farming
As you continue to walk on the path, you will find village houses, small fields or kitchen gardens where locals grow potatoes, kidney beans, apples, and others. Everything is grown organically here. 
First part of the trek is dotted with village houses and narrow, rocky, uneven lanes. It is quite fascinating to see around. 
True mineral water
You can even drink water from taps that you will find on the sides of the path. This is pure mountain water coming from glaciers and is full of minerals. Forget your city's bottled water during the trek! 
Forest area begins
As you continue along the path, you almost come to the end of the village. There is a board that directs towards Gangotri path. Turn right from this path. You will also see the Yagnaam Parvat from here. 
Now you will reach a spot where you can catch a breathtaking view of the quintessential Triyugi Narayan village. 
The trek becomes difficult now. It is 1 km ascending path. 
Be careful of slippery paths and wet areas. This is due to constant flow of streams from the mountains. 
You can also find many medicinal plants here. A local guide can help you identify the plants. 
Testing your trekking skills
As you continue the climb, the path becomes even more uneven, muddy, and rocky. You must take the support of stick. Be slow and steady. Be careful. 
Even if you wish to go faster, you cannot. Mind your steps because knee and ankle injuries are common among trekkers who are not careful even for a single moment. 
100-year-old oak trees!
Climb further and you will be greeted with tall and sturdy oak trees that are believed to be more than 100 years old!
A little further from here, you will come across two paths. 
Take the left one. 
Here, the path becomes very narrow and rocky. It is not actually a path, but a channel, in which water collects during the monsoon. 
Those who have no practice of trekking might feel fatigued by now. 
Rest for a while and then resume your trek. 
The flag
Finally, you come to a spot where you see a flag. This indicates you are on the right path and Gauri Gufa is just nearby. 
The Gufa
Something you may not have seen before – a cave nestled atop an almost vertical hill, which is impossible to climb! 
But it's also impossible to stay on the ground, simply looking at the Divine cave! 
Yet, there are no steps. No path to climb. Nothing. 
Caution: Please do not attempt to climb the steep hill unless you are skilled in climbing rocks, trees, and other such things or you have mountaineering gear and appropriate shoes. 
Inside the Gufa (cave)
The Gufa is very cold inside. You can see symbols of "Swastika" on its walls. You can also find rose petals. Locals come here to worship the place. This is a sacred place brimming with positive vibrations, as Goddess Parvati meditated here. 
The return journey
On Gauri Gufa trek path, ascending is easier than descending!
Return from the same path and reach Triyugi Narayan village. 
Tips Before Starting Gauri Gufa Trek
Test your fitness before you come here. Climb stairs, walk daily for 30-40 minutes, and do stretching and weight lifting exercises, cardio, and others – start 30-60 days before your trek plan. 

Stay at Triyugi Narayan village area for a couple of days to acclimatize your body to this high-altitude place. Eat local food and mingle with the locals, who are friendly people. Eat well and don't hesitate to put on weight, as you are going to lose kilos during this trek! 

Please consult a doctor before coming here, if you have hypertension or other chronic conditions and a previous knee injury. 
Have a good breakfast before starting the trek.
Tips for the Trek
Speak less during the trek to conserve your energy. 

Sip water regularly along the path to keep yourselves hydrated. 

Take short breaks during the trek. Do not trek continuously. 

Wear appropriate trekking shoes that fit well and are comfortable. 
Take a local guide with you so that you do not get lost in the forest path.
Accommodation
Accommodation is available at Triyugi Narayan village. Please do not camp at Gauri Gufa. This is a dense forest area and unsafe. 
Essentials to Carry
Trekking shoes. Ankle boots are best for this trek. 

Trekking stick.

Water bottle and high-carb snacks.

Camera.

Other normal traveling and trekking essentials. 
How to Reach?
Triyugi Narayan is situated in Rudraprayag district, Uttarakhand. Jolly Grant, near Dehradun, is the nearest airport. Rishikesh and Dehradun are two nearest railway stations. Distance from Delhi to Rudraprayag is around 370 km by road. 
Best Time to Visit
February to May and September to November.
Come, Lord Shiva and Maa Gauri are waiting to bless you!